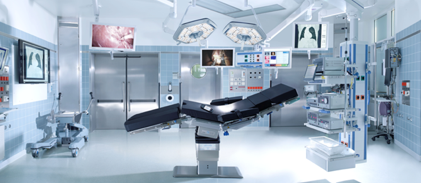 It is our pleasure to inform that our represented Hill-Rom Inc. company founded in 1929 by William A. Hillenbrand, global leader in hospital hotel design and manufacturing has recently acquired two new companies, Trumpf Medical and Welch Allyn.

Trumpf Medical is a company of German origin, a worldwide reference in the area of medical equipment for surgical centers. It is renowned by continuous and highly innovative work in the areas of research and development of this type of equipment (tables and surgical lights, integration of surgical blocks).

This company also stands out for its projects associated with other companies such as Brainlab or da Vinci Surgery and for manufacturing very solid and reliable equipment, as well as functional and with the highest technology.
Welch Allyn, is one of the most important companies in the USA. In the area of medical equipment, recognized internationally for the quality and performance of its equipment and instruments for clinical diagnosis.

Always innovative, Welch Allyn has made a continuous improvement in the performance of vital signage equipment to provide accurate information quickly, as demanded by healthcare professionals today.
In this way our represented Hill-Rom, who already acquired Liko, (Swedish company specialized in the manufacture of hospital cranes) and Aspen Medical (American company dedicated to the manufacture of accessories for surgical equipment), establishing a key position as the leading provider of both hospitalized and homecare patient's technologies.
The Hill-Rom family is present today not only in the areas of hospital hospitality, basic medical, surgical and critical care, but also in the areas of surgical center and patient monitoring and support to medical clinical diagnosis.

Therefore in Bioxel S.A. we are very happy to continue representing Hill-Rom in Uruguay, as we have done for the past 15 years.